The first time I heard officially about HBOT as being a "safe solution" for my case was by Dr. Nasha Winter. That was back in Feb, 2018.
My major complaints were my brain function challenges which I documented here. The conclusion of the exercise from her side very strong (and simple). She asked me to take Hyperbaric Oxygen along with Therapeutic Ketogenic Diet. (of course she did share plenty of things as well)
I then decided to give other things a higher priority, thinking they may make the impact I am looking for. However, I did not reach there yet (still hoping).
What also got me scared from going through this root facts on researched published in 2011 in NCBI showing that it actually grew brain cancer cells in vivo.
However, other research clearly stated how if combined with Ketogenic diet, it will do the exact opposite. Dr. Dominic D'Agostino has done great research about the subject in this 1 hour video on YouTube, and he stated clearly that it's an excellent path for healing.
At the same times, I have met Dr. David Musnick near Seattle (back in Feb 2018), and spoke several times afterword. He felt HBOT will make a difference, and recommended 20 sessions at 1.5 ATA.
I still felt back then that I can do more before going through that path.
Dr. Mark Flannery himself back at the end of 2019 also encouraged me to try HBOT, but I personally decided to delay that path thinking my brain can heal in other paths. When I asked him recently about how long before this anything could be seen, his answers that some people had something to report on the first session, while others had 40 sessions without any reported progress.
So, I figured I might have been wrong, or "too afraid" to be honest.
Starting Again on Dec 2020
Alright, so I started on Dec 7th given that my cancer has developed.
My target is to take this until I reach 40 sessions OR until my surgery takes place.
Discussion with Dr. Scott Sherr
July, 27th 2020
I had a 60-min call with Dr. Scott. A kind knowledge sharing doctor indeed.
That was after having had 9 session of HBOT already. His recommendations were:
I am currently doing 2.0 ATA, while the doctor recommended 1.75 ATA, as he said it will be the highest optimal for someone seeking cognitive improvements. I will do that immediately. The 2.0 ATA that I am currently taking is best for other patients.
Try challenge your brain during session. So, what I'll start doing is to try to look up the words that I struggle with typically.
Take an immediate Neurofeedback session right after each HBOT session. He recommended that 3 times out of each 5 HBOT sessions. I have NeurOptimal device, I'll start doing that tomorrow.
He suggested KetonAid before each HBOT session. They're expensive and shipping them to Jordan will make it even more expensive, so I will skip it.
He said that after 40 sessions, any positive progress should encourage you to do more, but no more than 60 (or 80) in total.

If no progress showed up at all after 40 sessions, then HBOT will most likely not give you what you wish for.
My First 8 HBOT
I have then decided in July, 2020 to start my first session (today) and it was for one hour. I intend to do 40 sessions. The technician decided to increase to start with 2.0 ATA, after having tried to increase it from 1.0 ATA every 15 minutes to ensure things are intact and without any side effects.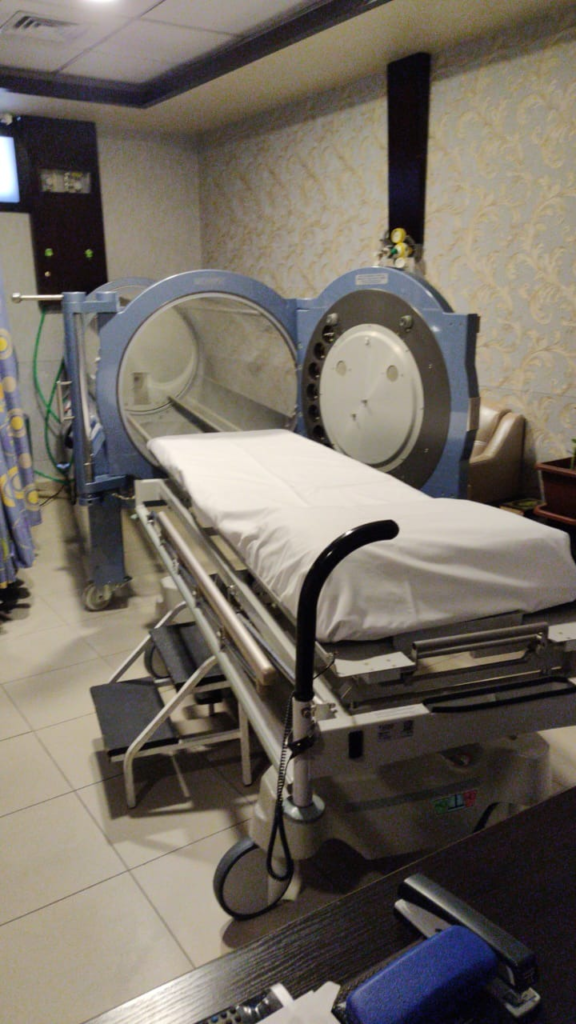 As for the second day onwards, I started going to 2.0 ATA immediately (then going down slowly in the last 5 minutes)
I learned that on the 4th day, it took them 10 minutes to move from zero to 2 ATA, according to the clinician who is handling me. I felt nothing different.
I made an MRI one day before my first session to ensure my brain tumor has been safe (which turned out to be), and I intend to redo the brain MRI again in one month, and then once again at the end of the second month.
It is important to mention that I switched Therapeutic Ketogenic Diet two days ahead of my first session and I have succeeded and tested myself before my first session. Since I feed myself only 8 hours per day, I immediately started losing weight further.
It is clear that my skin has improved generally (nothing I was going after)
O2 Tests
The following numbers are consistently the same since the start of HBOT
When?
O2
Hb
1 hour before HBOT
(at home)
94 to 96
15.7
Right after HBOT
(at hospital)
100%
—
Three hours after
(at home)
94 to 96
15.7
On Hold Until September 2020
After 12 sessions, I decided that I will put HBOT on hold for a month. Reason is that I wanted to add Vielight to the protocol along with HBOT, given the advise I heard from Dr. Thomas Burke on his video stating that HBOT alone is not ideal for TBI patients, and that having Near Infrared Light Therapy is more ideal.
Note that until those 12 sessions are over, there was no significant improvement on any front.