Low Level Laser Therapy (10/2019)
I was first introduced to the whole thing with Dr. Beverly H. Kune which gave me plenty of time and assistance and dedication to teach me more about LLLT.
She then informed me about many great doctors, but she led me to Dr. Trevor Berry to discuss further ways for me to improve my brain function challenges. I flew to Arizona to meet meet him there in person on Oct 2019
Dr. Berry lend me his lunch time offering me help. I felt guilty as I had him do most of the talking during his lunch time where I was learning a lot about his approach of how he would treat someone with my case, with the Erchonia XLR8 device that I purchased.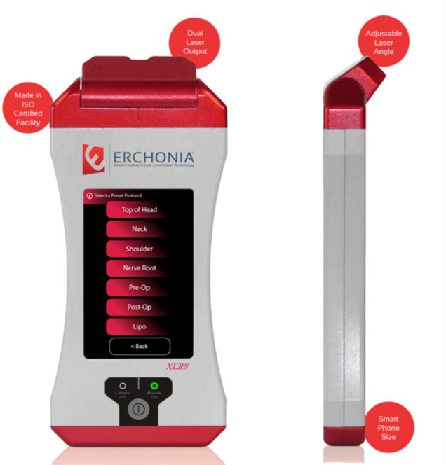 I am summarizing the outcome of how the proposed set of protocols are follows:
Protocol A (did not start yet)
Did not start yet. Intend to start Nov 1st
When: AM time and PM time
Configuration: 4, 10, 40, 60
Technique: Beat the right hand in sequential manner (e.g. every second) while trying to remember words.  Say colors then associate to a meaning.  Example: Black > Coffee, Yellow > Banana.   Note that this would be the hardest game my brain will be challenged with

On an iPad app called Metronome, someone should tell me numbers, and they'll time it while I say those numbers. (numbers may be 2, 4, 9, 8). The Metronome will tell me if I was too quick or too slow.

Location: Left Frontal Temporal Lobe
Targeting: Reduce brain fatigue
Protocol B
Started Sep 20th
When: PM time (right before sleeping)
Configuration: 4, 10, 40, 250
Duration: 2 minutes
Technique: During those two minutes, I should be reading something challenging without trying to memorize what I'm reading. As time (days) go forward, I may notice that I have started naturally remembering what I read. I picked this basic article, by the way.
Location: over the left ear
Target: reading/memory
By the way, I noticed that my wife was able to read the article above I read twice as fast as me (that was from her first time, while I .
Protocol C
Started Oct 10th
When: Any time during the day.
Location: Cerebellum, right side.
Technique: make infinity sign for right hand and left leg, where they work in harmony but in opposite directions of each other

Notes: it may start harder to meet the target properly at start, but with time it will get better.

Target: Cerebellum coordinates muscle activity as well as fires to contralateral frontal lobe amongst other things
Duration: 2 minutes
Protocol D (No Laser therapy)
Did not start yet. Intend to start Nov 1st
Time: at night
Location: Nostril Smell
Ears: listen to Music (that I like) on your right side, while smelling something on your right.
Technique: move your right hand at a fixed sequence (e.g. once every 1 second)
Configuration: No use for device
Protocol E
Started Oct 10th
Time: at night
Location: vagus nerve (left and right)
Configuration: 10, 10, 10, 10
Duration: 1 min on the left, 1 min on the right of vagus nerve.
Meditation
Take deep breathing and/or meditation – which will take as long as it can take. The more the merrier
Next Checkpoint
The doctor said that we should see the outcome of one month of the above as some progress must be seen. I intend to talk to the doctor on Dec 1st.
Focus Builder Application
The doctor also showed me to an app named Focus Builder that can be used on an iPad. That had me buy and install the app.
There was a specific configuration under the part of the app called "Combination Saccrades & Pursuits". The settings are as the below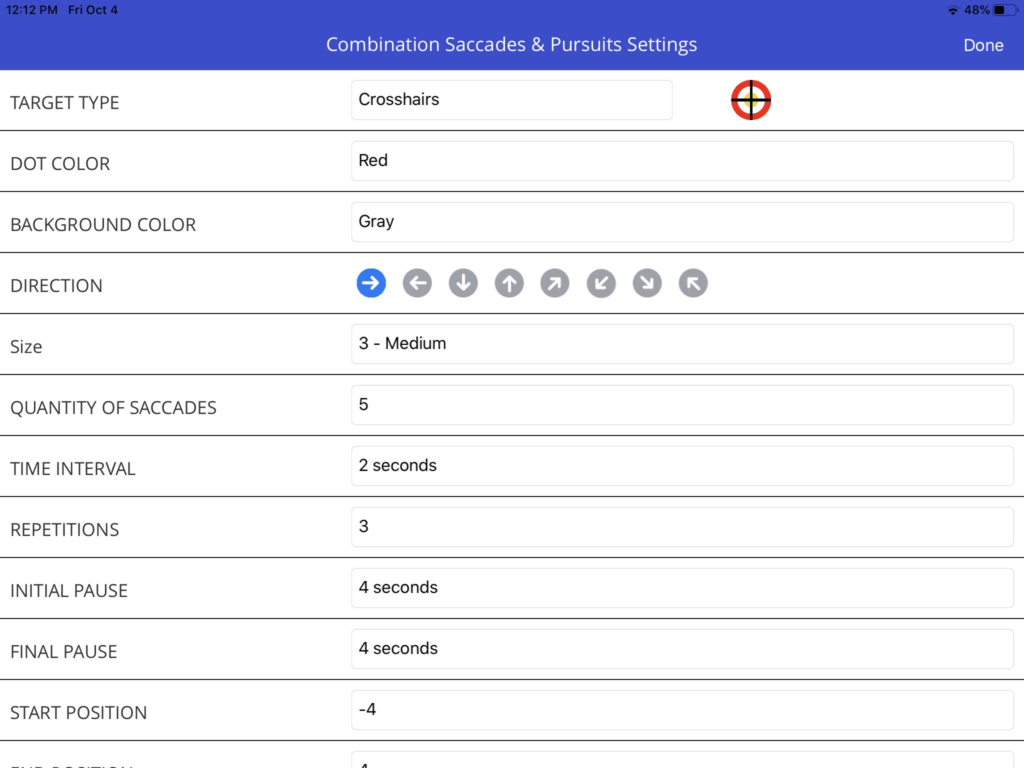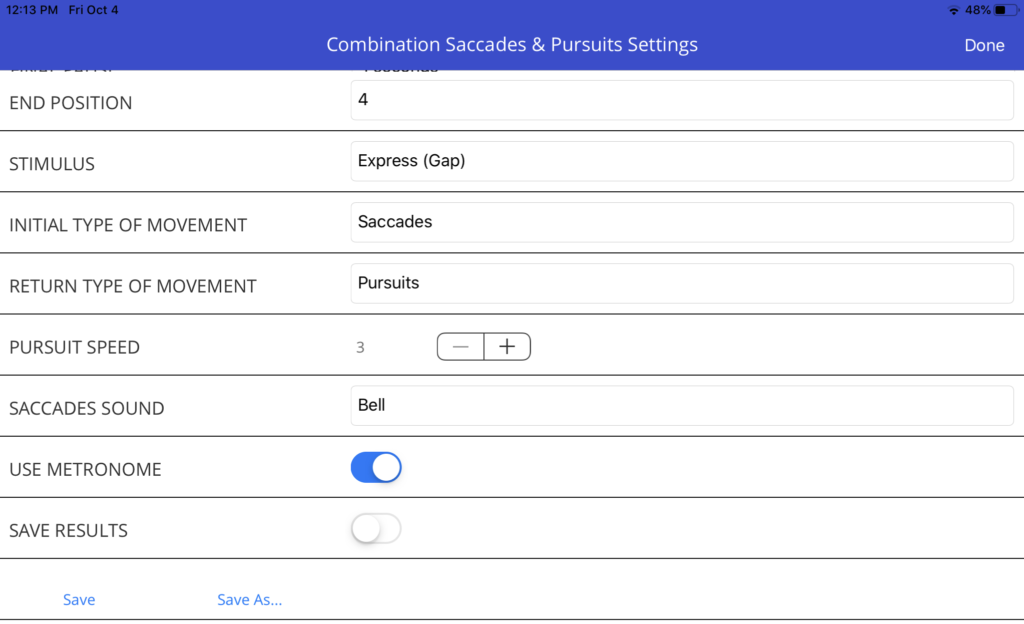 Using this application/game must be used during "Protocol A" (which means, it will be used twice a day).
Class 4 Laser (2/2018)
Dr. Richard Copper was excellent and kind while working with me as his patient. He had me try 8 sessions of Cold Laser Therapy.
They were conducted "away" from the left temporarily lobe (the previous cancer area) .
Outcome: I got my dreams back at night, which I had lost since surgery, but not the brain functions I was hoping for.
I will soon be writing more about what equipment was used, and how it was conducted without risking brain cancer, as conducted by Dr. Richard.