May 4th, 2020 – Blood Work
Please note that this content is not up-to-date, as me and Dr. Flannery met several times since then. I will do my best to make an update before end of Nov 2020 as I spent the last days in updating the rest of the website, which was critical
I was finally able to do the blood tests as per the requirements that Dr. Mark asked for them last time. I had to wait nearly a month before the test took place! delay was caused with coronavirus stopping all Labs to be closed, all up until late last week when things got back to life.
Symptoms Updates
Word finding is still challenging and I could not see any clear improvement
No improvement on being fatigued since last time we spoke. So, some days are doing alright, and others are just weaker. Evening returned to be better than afternoon (between 12 AM to 1 PM). Along these times, mild seizures may take place.
Exercise: I am unable to exercise in the last two months because it's harder on me (general fatigue), plus the lack of interest.
General Updates
Starting April 23rd until May 4th, I have been fasting 4:15 AM until 7:20 PM without food and water -(around 15 hours) . During fasting time, I have been doing great (except for two times having minor seizures once at 1 PM, and the other around 6 PM).

SWITCHED SUPPLEMENT TIMES

Everything that was to be given three times has been taken only two times a day
G.I. DETOX: I am able to take once during evening to stay an hour without food before taking it, and an hour after taking it.

Note that I ate three Dates per day.
In the last two weeks (before fasting), I had diarrhea every two or three days, without specific reasons. Last three days were slightly better.
I lost one more KG during that time

April 15th until May 4th,

I started the supplements that Dr. Flannery had instructed me to do in the second phase.

Worth mentioning that INTESTIN-OL did NOT start yet because it is stuck at Customs and things are moving slow because of the Corona's situation (I expect it to be released one week from now)

I had diarrhea every two or three days, without specific reasons. Last three days were slightly better. I felt that the new supplements may be the root cause.

April 1st until April 15th: I had to break parts of the diet because we were stuck at home and I could not buy the food that goes along with my restricted diet. I did not see any symptoms worsening effects during that time. The exceptions were:

Basmati Rice, once every other day.
Peanuts, around once every three days.
Chickpeas (packed), had twice.
Black Tea ("decaf"): once
Almond and Walnuts: a small bunch, on daily basis
Important Notes
Have tried Serotone, two bottles are over and I did not get any better impact. So, I stopped.
Worth mentioning that I went to phase 2 without having done tests post phase 1 because coronavirus made it impossible to make tests arrive on time when shipped from Jordan to United States
Once I hear from Dr. Flannery, I will update this page.
Feb 24th, 2020 – GPL Mycotox Test
Today, I met with Dr. Mark and we have discussed my most recent test results from GPL mycotox. The test results has been shared on a different page and has the details of tests and the suggested supplement, along with my wife's test too.
The doctor said that I should first continue my current 8-week plan, then I should create new 12-weeks program for resolving this mold issue.
Also, we have discussed changing out from Ketogenic diet into something that's easier for me to commit to. The doctor suggested to go for AIP Diet, and I am thinking of making this switch in few days.
The total set of supplements (which includes what's not related and not affected by the GPL Mycotox) can be found here (which is named phase 2).
These supplements are to be started in three weeks, after my current 8-week program is over. The program is supposed to take around 12 weeks after which testing GPL Mycotox should be taken again.
These 12 weeks are additional new programs that were put in place because of the Mold. Of course, we discussed that I need to double check that the source of the issue (if it's not in the far past) is eliminated.
I then discussed my idea of wanting to change from Ketogenic Diet to Autoimmune Paleo Diet, along with the restrictions of whatever Array 10 has told me. He proposed that going through this path should refrain me as well from fruits given my current situation.
Therefore, I will be switching to that diet after one week.
Jan, 3rd, 2019
I have important updates that took based on the last meeting with Dr. Flannery. But it is not yet updated on the website, details below
Our meeting was to discuss my readings and it lasted three hour!.
The blood tests and labs are already updated on the website, and the same for the supplements.
I took permission to take the video call and share it on the website from Dr. Flannery.
This is a three hour video call! The first 23 min or so do not show the doctor (bug!) but the audio/sound is doing well, and after that everything appears and looks great.
Dec, 5th 2019
I met Dr. Mark Flannery based on a recommendation from Dr. Datis Kharazian back in 6/2019 as one of the best people who could take care of my case.
I met him since that time twice at HealthWise Clinical Nutrition, both on video online meetings.
During our first meeting, we revised the history of my case and my previous tests and progress in the last years.
At the end of the call, he ordered three set of tests. Three Cyrex Lab tests, Array 20, Array 7X, and Array 5 (and they are yet to come out in two weeks or so).
He also ordered a Saliva test from DiagnosTechs, and the report showed that I am doing great all levels of Adrenal and the Circadian Cortisol Profile.
The other test is called GI MAP: DNA Stool Analysis (Stool Test) are the ones that showed interesting outcomes, ones that called for this test to be repeated by my wife before giving me a potential treatment!
Another set of blood work was requested by Dr. Mark, and these reports showed that I have problems ALT/GPT, ASP/GOT, GGT and Bilirubin. Given that I reduced Trileptal from 900 mg to 150 mg twice a day, we can no longer say that the problem is caused by Trileptal
I took the effort to check my readings since so many years back, and it looked like this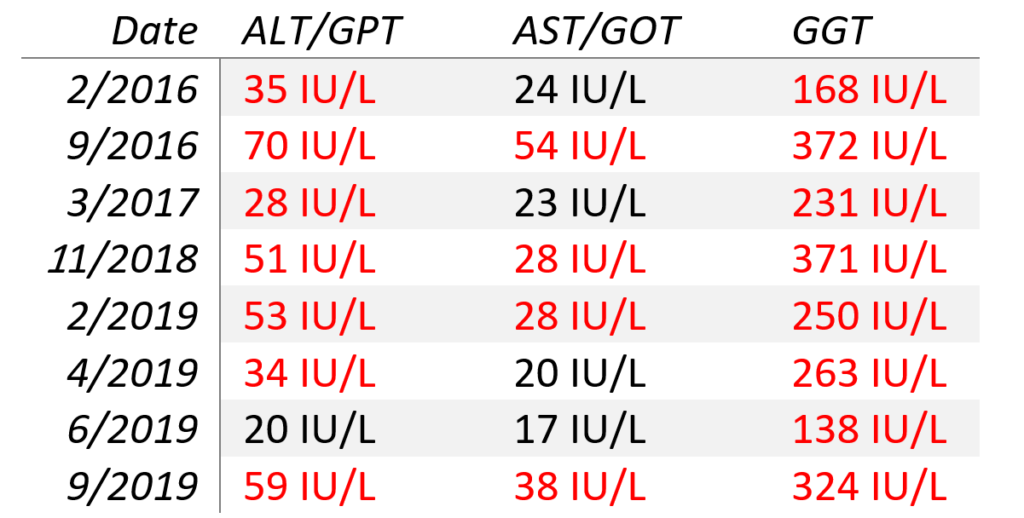 That led Dr. Flannery to ask for an ultrasound to check on the gallbladder for potential stones. I took the liberty and took an MCRO, instead. To do that, I went for another doctor in Jordan to conduct that for me. It was done, and the results can be seen here (and the large source files can downloaded here if needed. The report itself said that all is fine.
Then the doctor asked for ANA and TMA blood work and the results showed that all is within range.
We discussed B12, and he suggested that I added folate after explaining why B12 alone doesn't do the job, and why the basic B12 blood work doesn't say the real story.
Then he discussed how D3 is low, and he suggested higher dose, and consider taking it with K2 without Vitamin A (which I was taking for years).
I just shared with the doctor what the EEG results look like and I am waiting to hear from him on what his opinion is.
Given that on the 14th of December 2019, I stopped Trileptal, I am finally able to take Turmero Active, Nitric Balance and Resvero Active safely (previously, some interactions with Trileptal was stopping me from going there).
I have reached already the highest dose he recommended which are:
Nitric Balance (switching to chocolate and strawberry)
2 tb in the morning
2 tb in the evening
Do not increase supplement beyond above dosages (exercise 15 min post this supplement)
Turmero Active
5 ml x 2
Start after 1 week of going with Nitric Balance
Resvero
5 ml x 2
Start after 1 week of going with Turmero Active
On Jan 3rd, 2020, we will be discussing the outcomes from Cyrex Lab Array 7x and we will discuss what should I do further hoping to resolve the "Alpha + Beta Tubulin IgG+IgA" reading. Those tests are can be seen here.