Toxic and Essential Elements; Hair Test
March 2020
The test was conducted on Doctor's Data. Results showed some Antimony have high readings and that Potassium, Sodium and Lithium were far below the range. Three other readings showed slightly off-range readings. Results can be seen here
Organic Acids Test (and more)
December 2019
I have met Dr. Robert twice over two different video calls. These were to discuss the Organic Acids Test from The Great Plains Laboratory. The outcomes brief is below, and its full test outcome is here.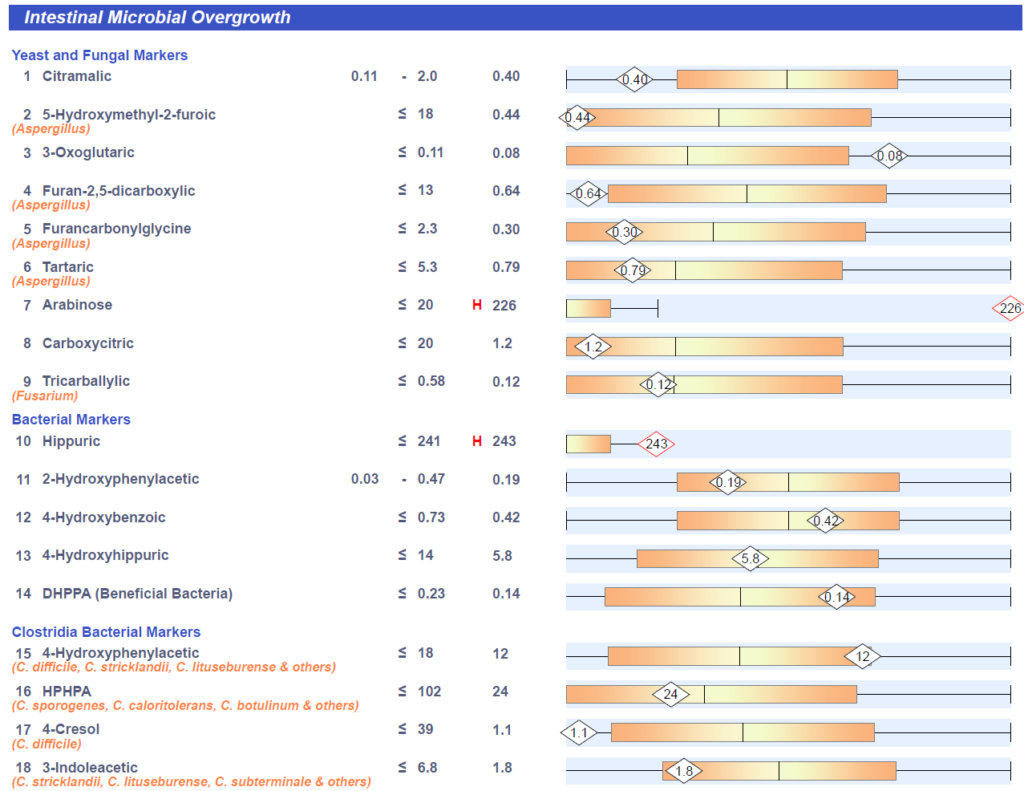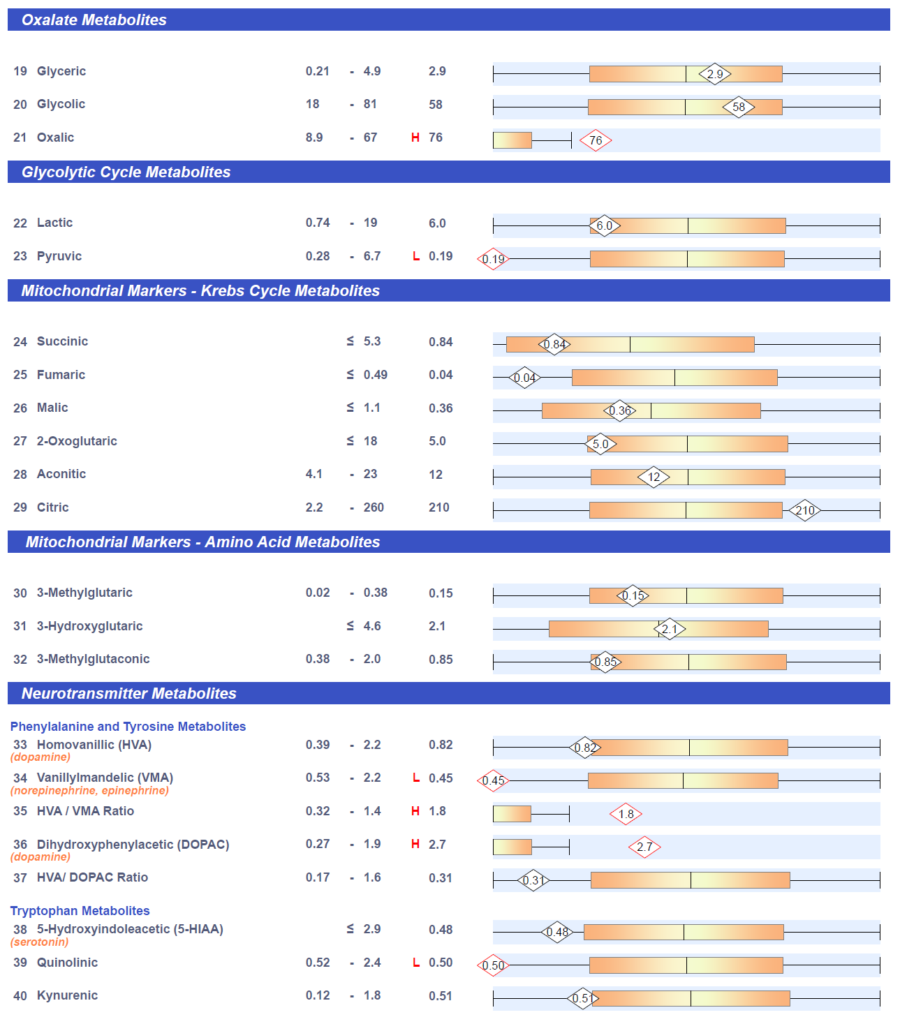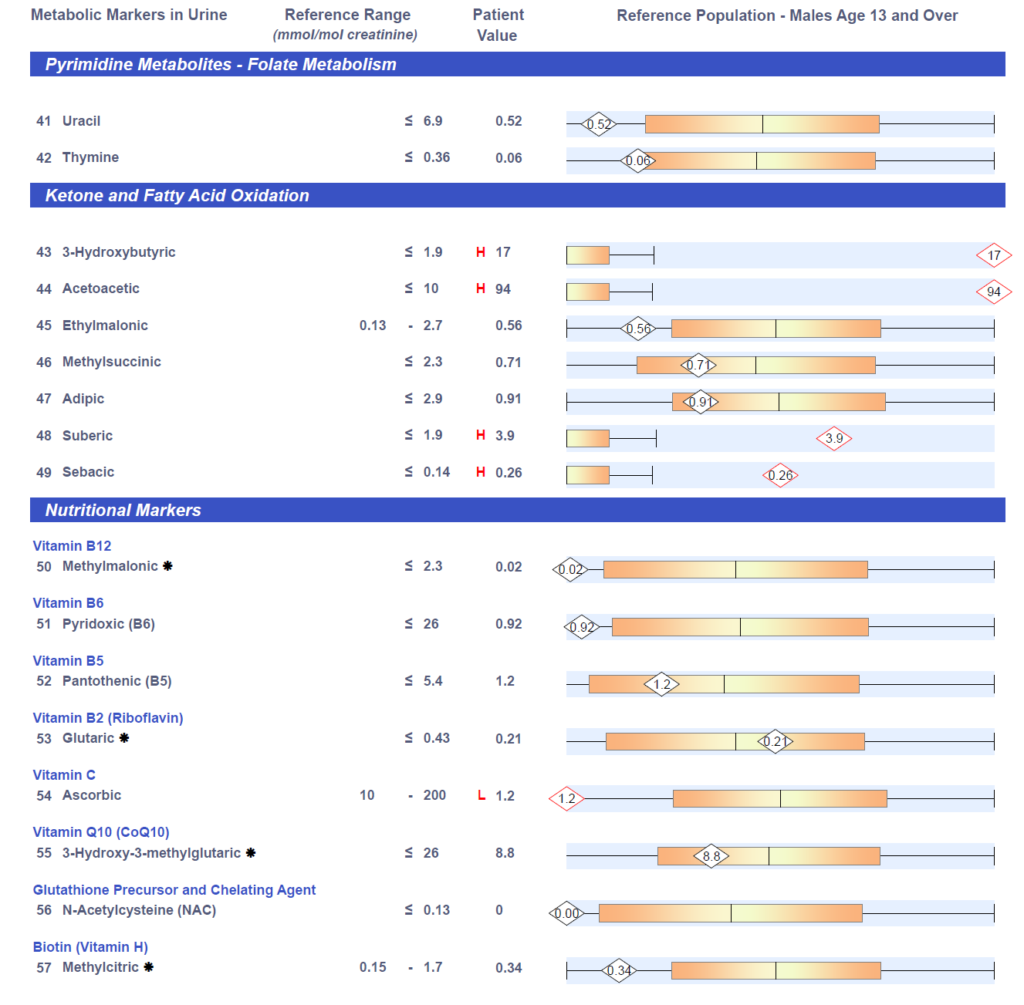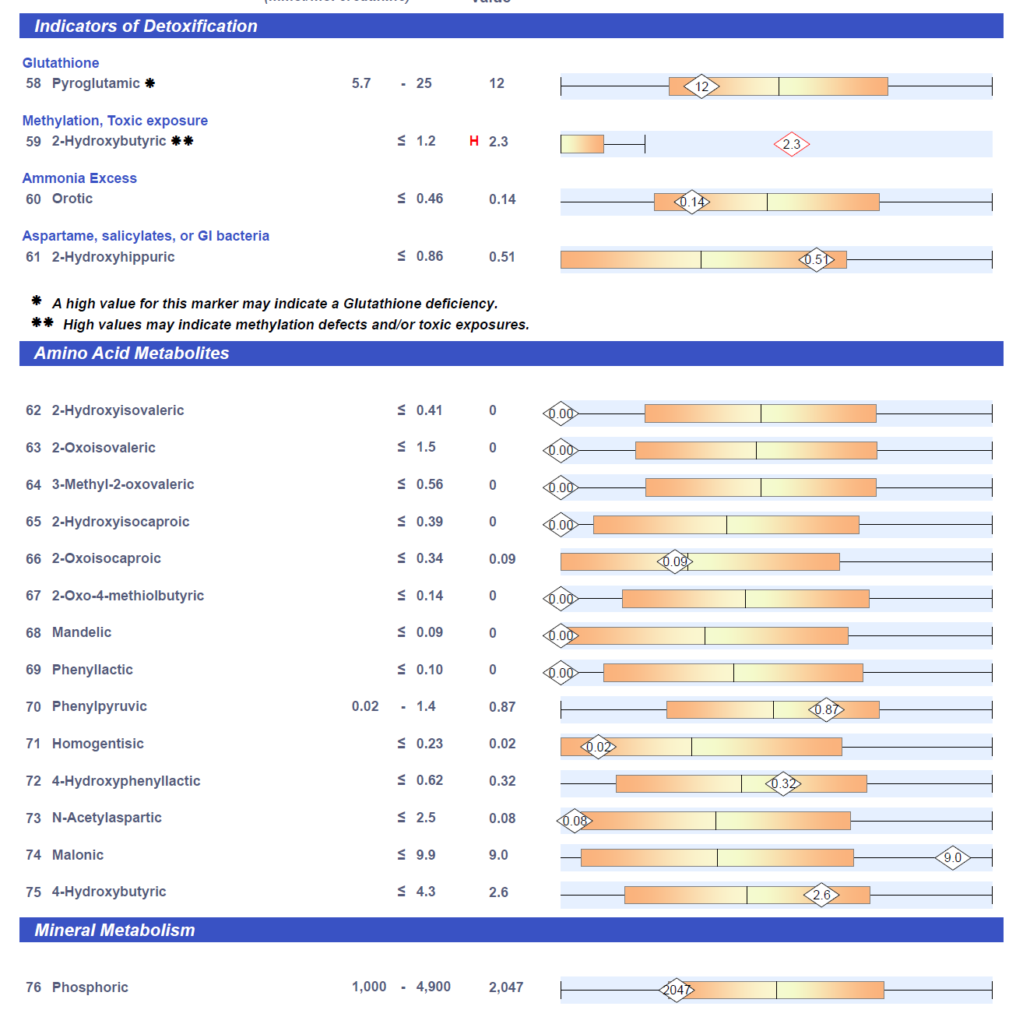 We also discussed the other tests, namely these blood tests , and DiagnosTechs: Saliva Test, and GI MAP: DNA Stool Analysis – Stool Test which were ordered by Dr. Flannery
You can watch the videos that took place on Dec 4th, 2019, by requesting it from me so I can check with the doctor first getting his permission.
Note that we could not finish the meeting at once, so he was kind to extend this again by doing the meeting again three days after over a weekend.
The outcomes were to take the following additional supplements
The doctor also recommended I take Labrix Hair Test. I ordered it but it will take its time to come back (my guess in Jan 2020)
An update during the call was that he suggested we keep everything else that he suggested during 8/2019, but with two exceptions
Fatty Acid Assist (we changed dose)
I already suggested before, but this once the dose was increased to 2 before each meal.
NMN (don't take for now – delay until later)
Functional Genomic Analysis
August 2019
I met with Dr. Robert Miller who is the founder of The NutriGenetic Research Institute back in 2017, and I was totally convinced that DNA testing would give me more insight into my condition.
To quote him directly,"This genetic variation may impact your ability to make and use different nutrients critical for digestion, detoxification, tolerance to gluten, blood sugar regulation, mitochondrial function, free radical production/premature aging, master antioxidant production and much more"
I had my first DNA test on 23-and-Me. By the time I had ordered the test, the company changed the way they work—which broke the plan I was working on with Robert. Despite this, I did benefit from learning other facts, as you can see in the next section.
A DNA test showed that I can safely eat cheese as a brain cancer patient, and that of course did not add up after seeing Cyrex Lab outcomes. So, I put that fact away and stayed away from it.
The Outcome
I waited to take another DNA test until a company was found that performed the necessary readings. The results of that study, the Genomic Resource Genetics Variant Nutritional Assessment, can be viewed here.
The outcome of the highly educational program of the session with one-hour with Robert Miller.
You can watch the videos that took place on Dec 4th, 2019 by requesting it from me so I can check with the doctor first taking his permission.
The conclusion was that we decided to take the following supplements:
Fatty Acid Assist (by PHP)
Supports the Digestion & Transport of Fats
Glutamate Scavenger II (by PHP)
Supports the Reduction of Glutamate.
Take 1 in AM and 2 in PM
H2 Infuz (by Functional Genomic)
Anti-oxidant Support.
Drop in water and drink quickly
NMN (by Functional Genomic)
NDPH Support. Take once daily, bu start 20 days after others.
Peroxy-Blox (by Functional Genomic Nutrition)
Supports Healthy Peroxynitrite Levels. Take 4 once a day.
OXA-Blox
3 times per day (take Oxa Blox with meals)
The full suggestion above can be found in this file.
I expect to start these supplements during the middle September 2019.
We also decided to order an OAT Test (urine) from Great Plains Laboratory. I ordered the test, and expect the outcome by end of October 2019.
23-and-Me (2018)
Despite being able to safely eat cheese, I cut cheese out of my diet nonetheless during the Leaky Gut diet in 2017. I rarely eat cheese even when not on a specific diet.
Sadly, 23andMe changed their protocol (version 5) and that meant that a lot of the value I was hoping to get was lost.
What may matter the most is the below "Detox Report"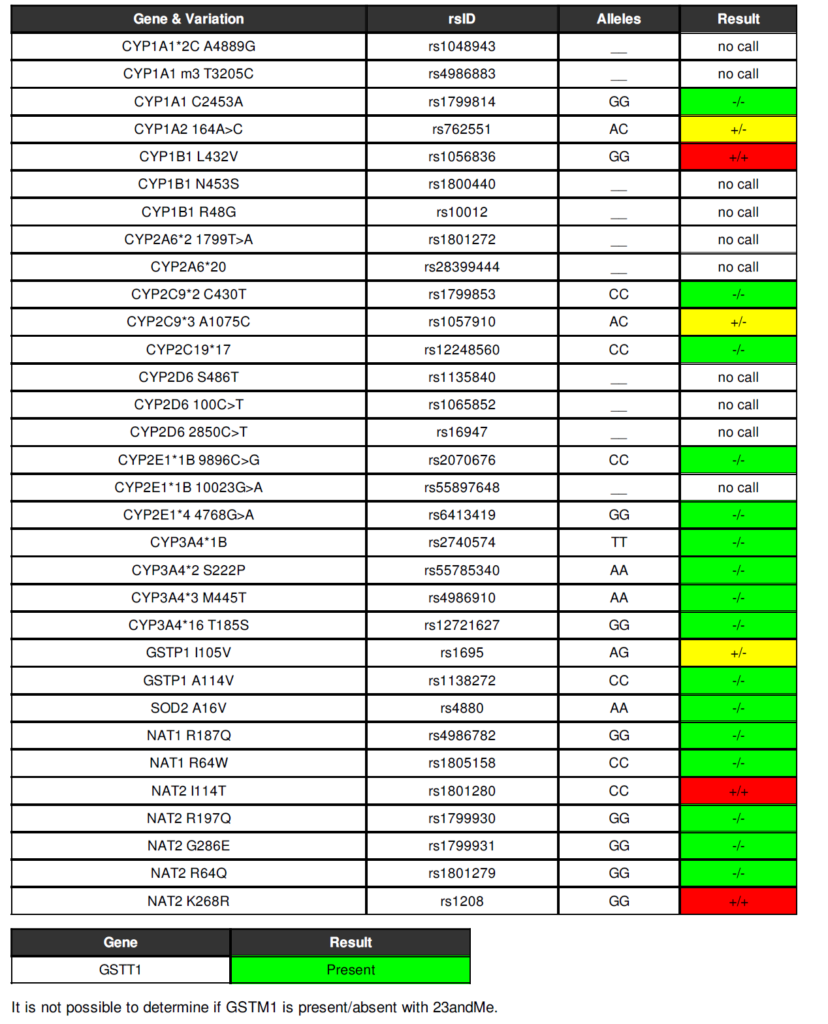 If you want access to the source files of the DNA test, you can download it
This exercise, however, did help with my Ketogenic diet. You can find more about the link between these here. It is worth mentioning that DNA tests will not tell you for instance that you have Leaky Gut, and therefore following what comes out is not wise.
It is worth mentioning that I had to repeat the DNA test with another company, and I had different outcomes. It is called Functional Genomic Analysis and you can read more about that here.